Carbon Monoxide Detectors
What's Lacking In the Models Sold at retailers and home centers?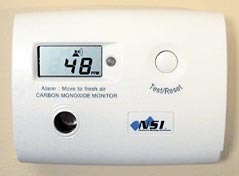 Store-bought detectors don't alarm until unsafe levels of 70 PPM or higher are present for 3 1/2 hours! But starting at 3 ppm, people with respiratory issues, the elderly, and infants suffer adverse health reactions. (see chart below)
Because the common CO detectors don't alarm at lower levels Cloud's recommends the NSI Low Level Monitor. We recommend one for every level of your home, installed at eye level and no lower. The NSI monitor has an easy-to-read digital display, and an alarm that increases in volume and frequency based on low, safe detection levels.
Call Cloud's 785.842.2258 for more information.